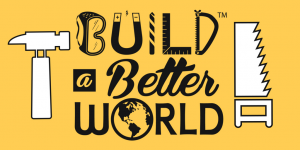 It's almost time for the Summer Reading Program!  Here's what you need to know.  Scroll further down for more detailed information.
WHO:  Anyone can sign up for this year's program.  Even babies and adults!
WHAT:  Log 8 or more hours of reading this summer and win a prize.
WHERE:  You can read anywhere, but special events will all be at the library.
WHEN:  Registration begins May 18.  Special events run June 1 – July 28.  Logs will be accepted and prizes distributed until August 10 (or until prizes run out).
WHY:  The goal of the summer reading program is to get more people to visit the library, check out books, and READ!
Visit the library May 18 or any day after to sign up for the summer reading program.  This year's theme is Build a Better World.
Anyone of any age can sign up!  Even babies and grown ups.  Participants must be present to be registered (i.e. adults cannot register their children unless the children are with them).
When you register, you will receive a reading log and a pack of stickers to track your summer reading.  For every 15 minutes you spend reading, add a sticker to your log.  "Reading" can mean reading to someone else, being read to, listening to an audiobook, reading the paper, reading an article online, and of course, reading a book by yourself.
If you log at least 8 hours of reading, you can trade in your log at the library for a prize!  Turn your log in before July 27 to be entered into a grand-prize drawing for one of several Kindle e-readers.
Special events will be held at the library in June and July.   Please visit our Facebook events page for a complete list at facebook.com/joneslibrarybristow/events  Events will include professional performances from magicians, musicians, ventriloquists, and storytellers; visits from amazing animals; hands-on arts & crafts projects; and classes about a variety of health and wellness topics.  Suggested age ranges vary by event; please view the Facebook events for more detailed information.
You do not need a library card to sign up for the summer reading program or attend events.  However, a library card is required to check materials out of the library.  To sign up for a library card, bring your government-issued photo ID and fill out an application.  Parents and legal guardians can present ID on behalf of their minor children.
The library is open Tuesday – Friday, 9 am – 6 pm, and Saturday 9 am – 1 pm.  We are located at 111 W 7th Ave, Bristow OK, 74010.  To contact us, call 918-367-6562.
The Summer Reading Program is made possible by support from the Oklahoma Department of Libraries and Bristow Library Board, Inc.