Our Weekly Activities:
---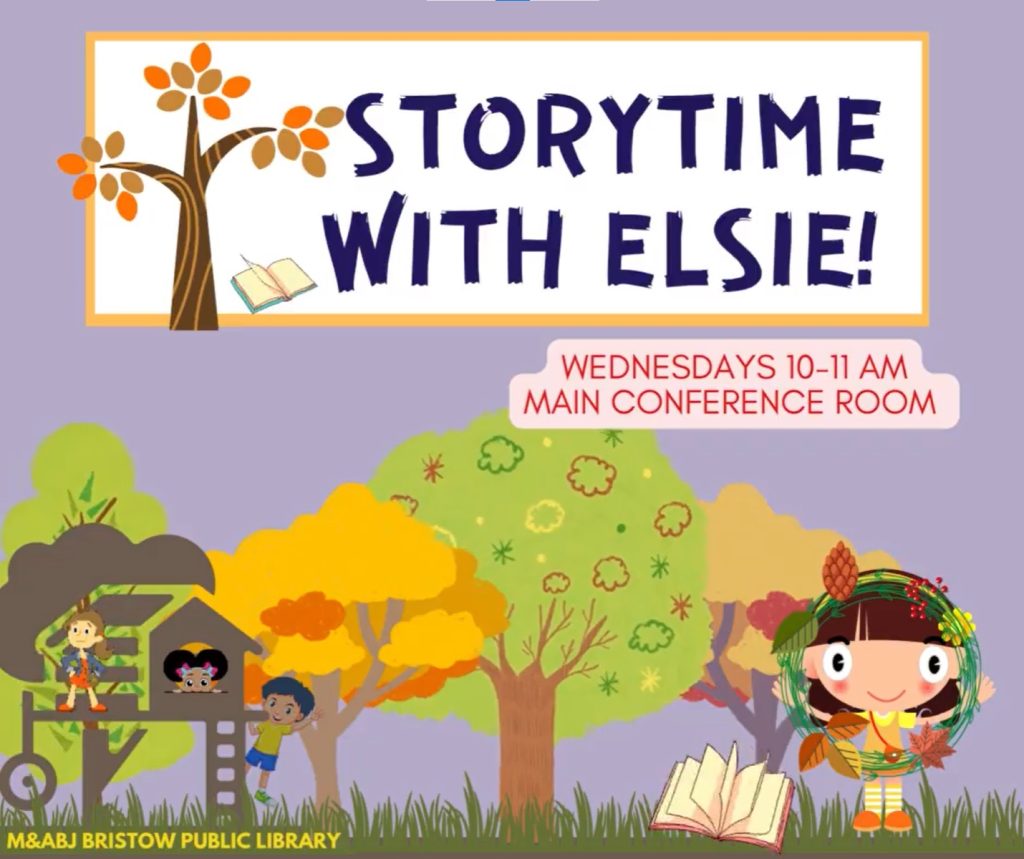 Storytime with Mrs. Elsie
Wednesday Mornings at 10:00 am – 11:00 am
Elsie's got some really cool autumn-themed activities planned for today's Storytime and we are pretty excited about it! 10-11 AM in the main conference room.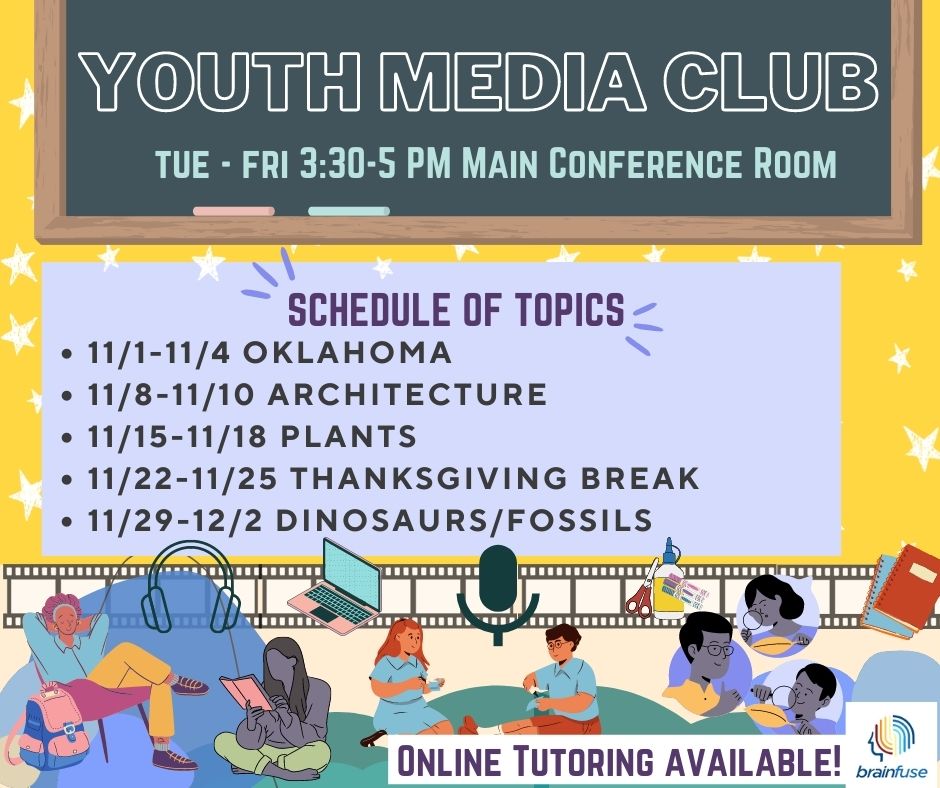 Youth Media Club
Wednesday Afternoons from 3:30 pm – 5:30 pm
Hey kids, need something to do after school? Come over to the library for YMC! Every week we'll have activities and videos for you focusing on a special topic!
Nov 1st – 4th: Oklahoma
Nov 8th – 11th: Architecture
Nov 15th – 18th: Plants
Nov 22nd – 25th: Thanksgiving Break
Nov 29th – Dec 2nd: Dinosaurs & Fossils!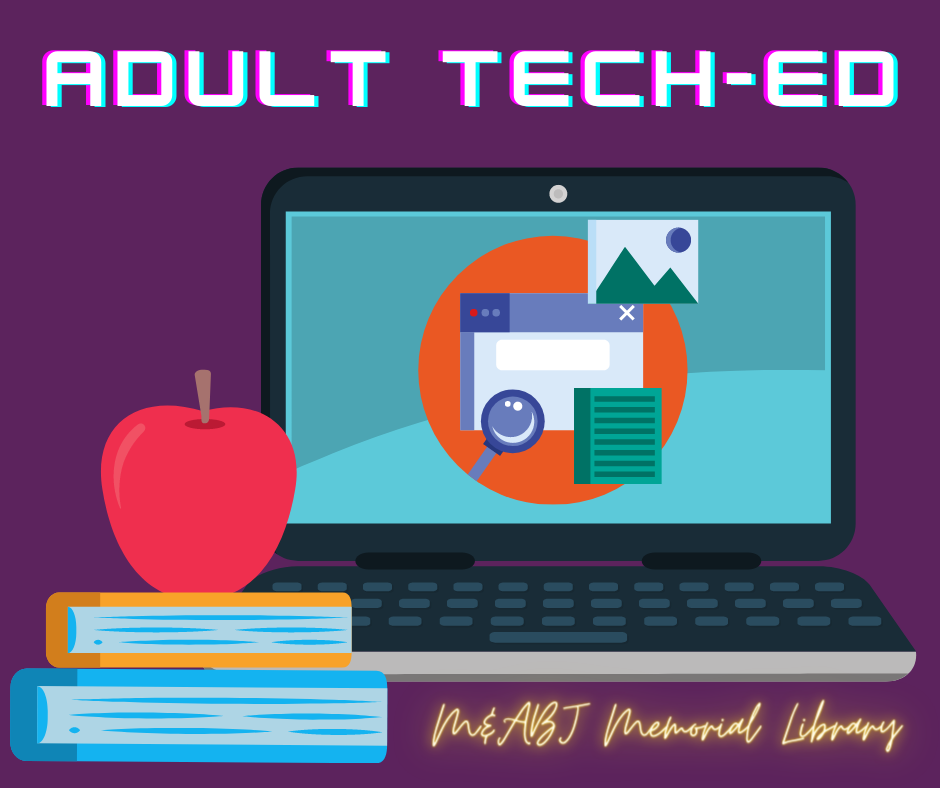 Adult Tech-Ed
Friday Afternoons 11:00 am – 1:00 pm
(Depending on Attendance)
Adult Tech-Ed teaches adults of all ages how to use basic computing technologies including word processing, spreadsheets, and presentation creation. We also learn about data privacy, digital citizenship, and graphic design basics.
Classes are held in our main conference room during lunch hours, please feel free to bring a sack lunch to class! Each series consists of four classes starting on the first Friday of each month. Call us for more information!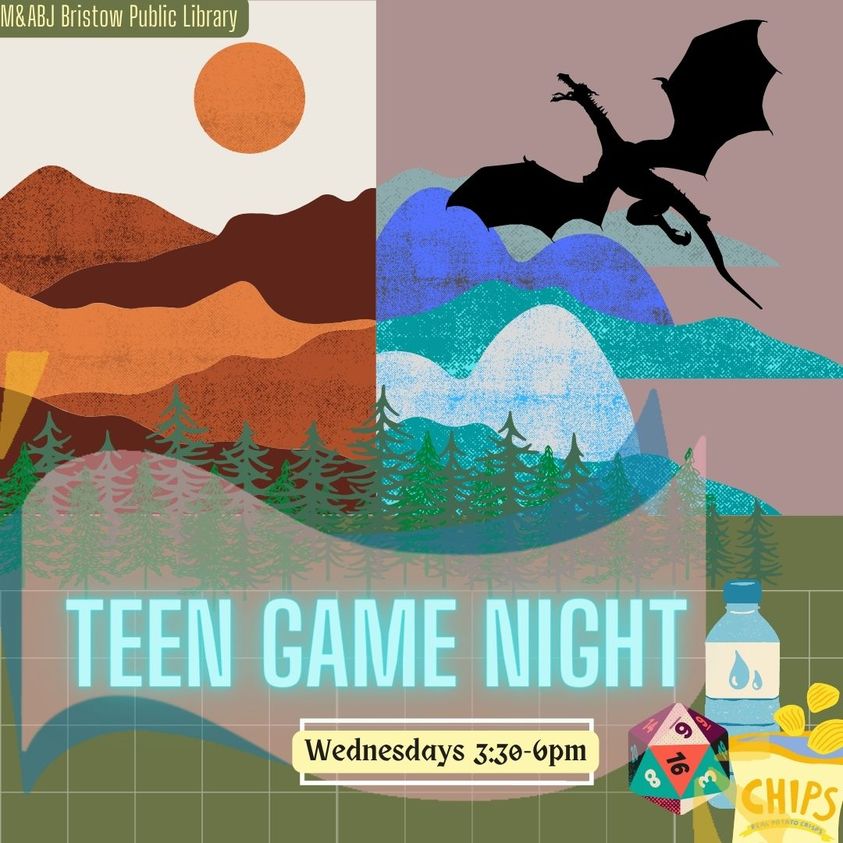 Teen Game Night
Friday Afternoons at 3:30 pm – 6:00 pm
DYK we reserve all conference rooms for our local youth and teens on Wednesday evenings? So whether you bring a gaming console, use our (growing) collection of cool board games, or aspire to launch a D&D campaign, we've got the space and resources for your squad goals. We also have snacks!
What's Special for November?
---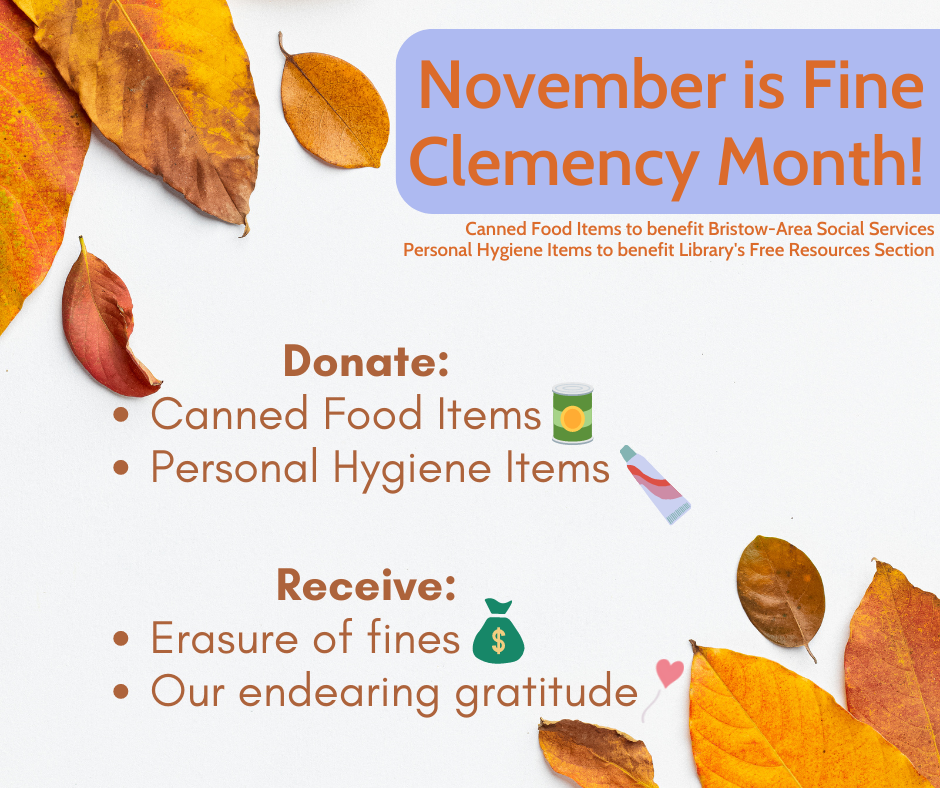 Fine Clemency Month
All Month
Tis the season and we're back at it this November! This month all patron fines will be forgiven with a donation of canned food items and/or personal hygiene items. Call or stop by the library for more information.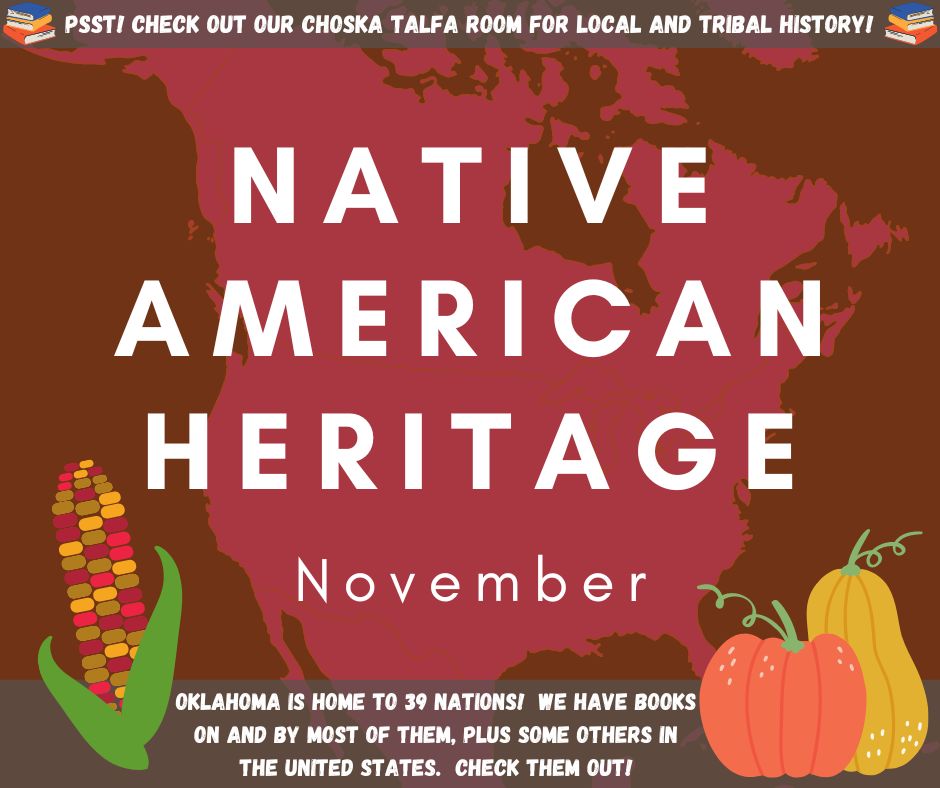 Native American Heritage Month
All Month
November is Native American Heritage Month, so come on in and read about all of the different cultures! We even have a large Oklahoma & Tribal History collection as well as genealogy resources in our Choska Talfa Room (formerly called the Genealogy Room) with all kinds of resources to look through!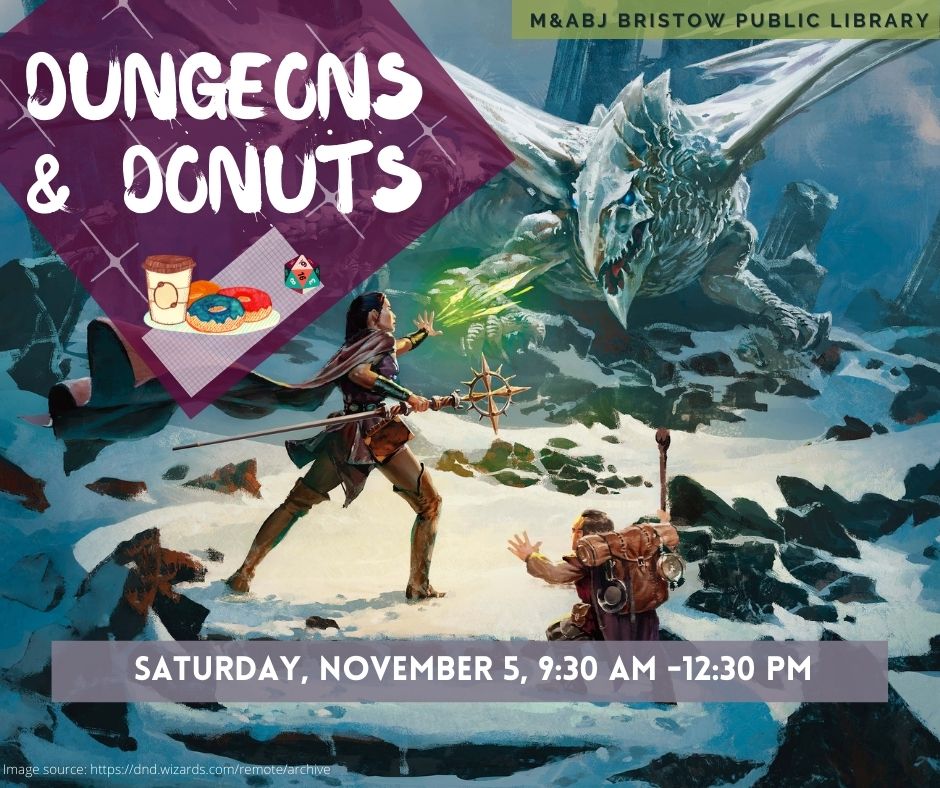 Dungeons & Donuts
Saturday, November 5th
9:30 am – 12:30 pm
Back by popular demand… Dungeons and Donuts is back this Saturday! Bring your crew and your gear, or join a new campaign and use our D&D resources. Whichever you choose, all conference rooms will be reserved for D&D campaigns. All ages welcome. Coffee and donuts provided.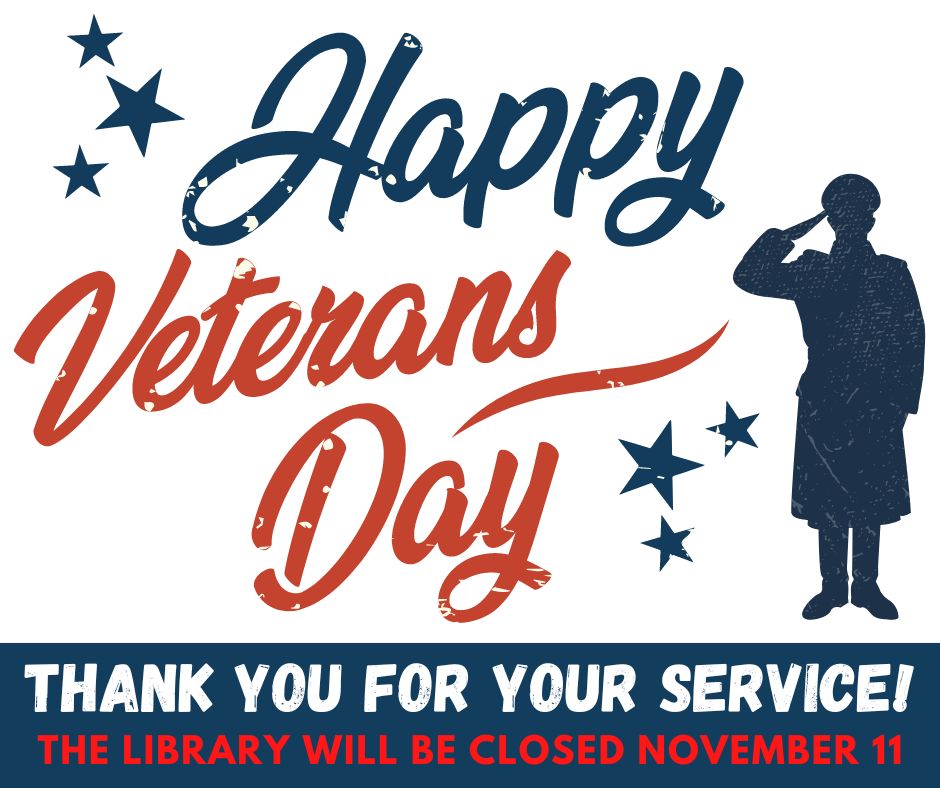 Veteran's Day
Friday, November 11th
Library Closed
The library will be closed on Friday in observance of Veteran's Day. Thank you to all of our veterans for serving our country! We're proud of you!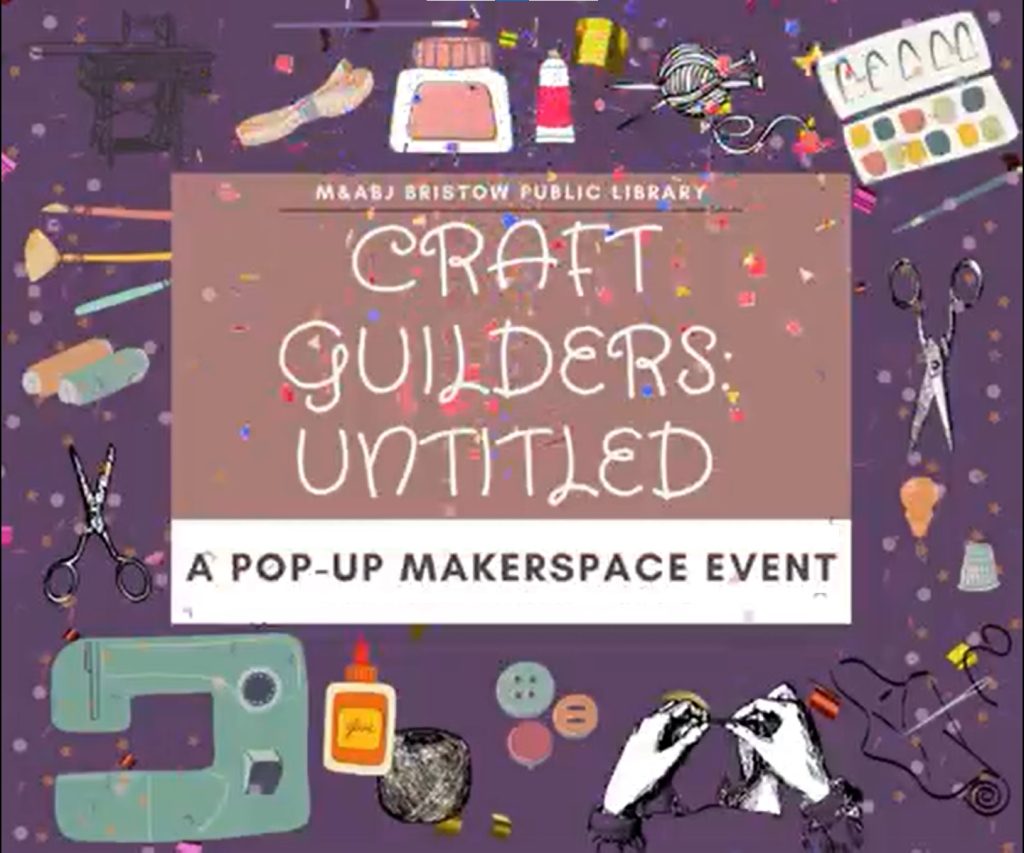 Craft Guilder's Untitled
Saturday, November 12th
We're bringing back Craft Guilders Untitled this Saturday! CGU is a pop-up craft and makerspace event: we'll offer several make-and-take craft projects, but you can also bring your own! Coffee and donuts provided. Hope to see you there!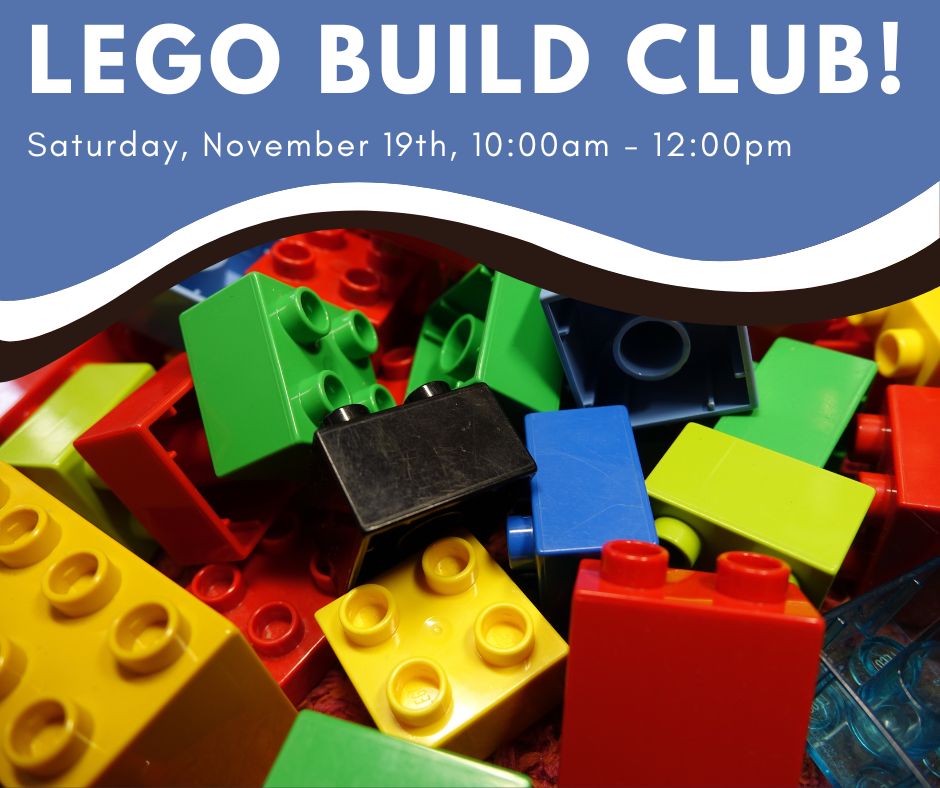 Lego Build Club
Saturday, November 19th
Come in with your kids and let imagination run wild!
Thanksgiving
Thursday, November 24th – Friday, November 25th
Library Closed
Happy Thanksgiving! It's time to eat great food and think about all of the things you're thankful for. The library will be closed on both the 24th and 25th, but be sure to come in and check out some history books before then and learn about the origins of Thanksgiving and about the Native Americans that were already here when the Pilgrims arrived!
Friends of the Library Fall Book Sale
Saturday, November 26th
We'll have all of our discarded books, DVD's out for sale. Come in and see if you find something interesting!